(title stolen from "This is Halloween" from A Nightmare Before Christmas.)
I've always been a big fan of Halloween. As a kid, it definitely was more for the candy, but it was also dressing up as something completely different for a night.  My dad would always take me out, until I got old enough to go with just my friends. When I was little I had the little trick-or-treat pumpkin basket, when I was older, it was a pillowcase, and we'd hit houses until the bags were too heavy to carry.
While all my childhood Halloween photos are at my parents, I found this photo floating around. I think I was 21, and decided to dress up as Obi-Wan Kenobi. This was also before I started wearing contacts occasionally, as you can tell.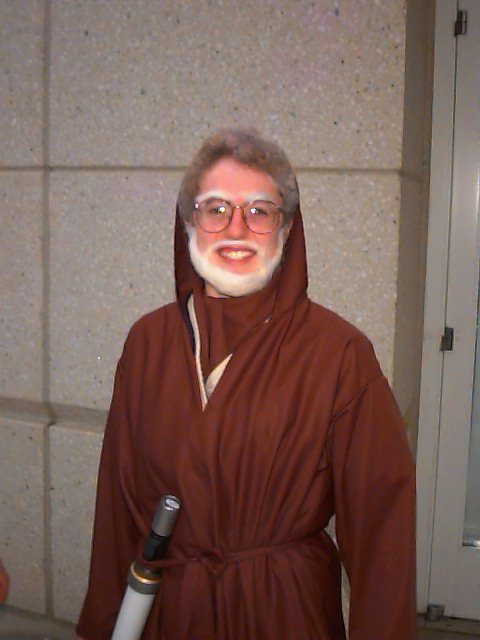 With Peter, I'm happy to share my love of Halloween with him.  This year, since he's almost 2, we figured we could actually do stuff with him. Oh sure, we took him trick or treating last year, but only to a few houses, and we had to carry him:
With all the Halloween goings-on this year, it was hard to narrow down exactly what to do, but we settled on the Colorado Railroad Museum:
and capped off the weekend with Trick or Treating:
He definitely seemed to have fun at all the events.  The weather at the railroad museum was a little bit warm, so we put him back in his Yoda costume, which fit ok (it was a toddler size when we bought it last year).  However I believe I've created a monster in terms of candy.  Everytime somebody put something in his bucket, he'd immediately want to eat it, so I took to having a little bag of M&Ms in my pocket, and I'd give him one after each house.  Monday morning he saw the candy on the counter, and said "candy, candy" until we took it away.
Next year he'll probably be at the point where he can pick out his own costume, and won't have to be prompted to say "trick or treat" (he said it as "dee-dee-deet" this year :).